New to UDFC?
---
Step 1: Find your age group
UDFC offers programs for players ages 3+. Please use the table below to determine your age group and program options for this season.
Did you know? Players age up in the Winter season. E.g. U3 in the summer 2023 will be U4 in the Winter 2023 season.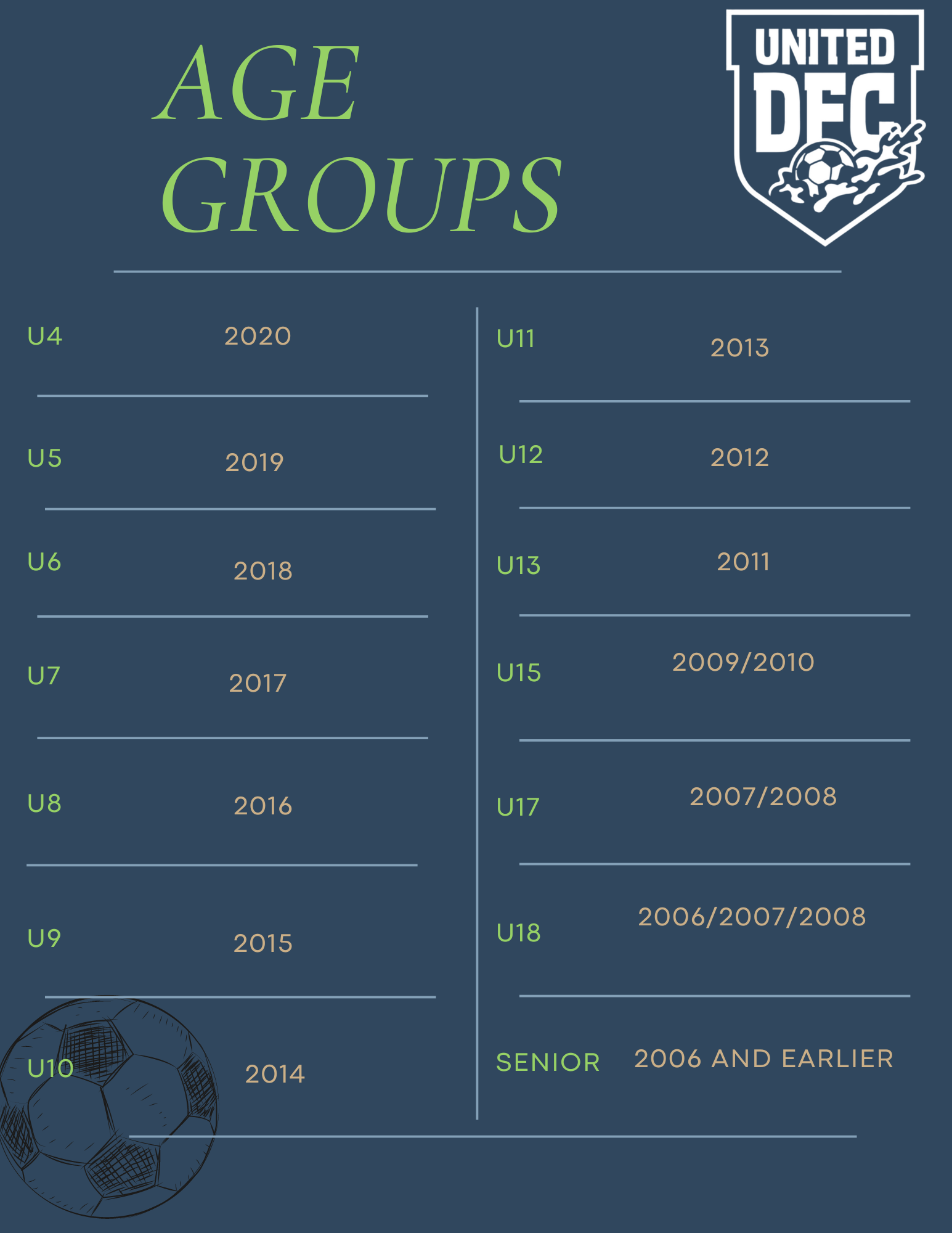 Step 2: Pick a pathway/program
UDFC offers two pathways: community and competitive. You can choose to either play competitive or community during your soccer career. Want to learn more? Click here!
Note: Pathways do not start until U7.
To learn about our programs, click your age group below. If you have any questions about our programs, feel free to contact at our office at (902) 404-8332 or email us at info@udfc.ca.
Step 3: Register
Create an account with our new RAMP registration system by clicking here. Once your account is created, you will need to click Register > Participant Registration. Select the desired season and add the family member you would like to register. Choose your division (your age group) e.g. U17 and then select your package (your desired program).
Note: You will need a credit card to register. If you would like to pay by debit or cash, you will need to contact our office at (902) 404-8332 or email info@udfc.ca.
FINANCIAL AID
United DFC is pleased to provide funding assistance over and above the Kidsport & Jumpstart programs for our players and families. The following programs are accessible to provide financial assistance to our players.
The RAMP registration platform makes it possible for participants to register online with their Jumpstart or Kidsport application ID number.
Simply submit your application to your funding organization online at Kidsport and/or Jumpstart.
Once you receive your application confirmation, you may register online using RAMP HERE and choose Kidsport or Jumpstart as your payment option in RAMP. You will be asked to provide your application ID number (located at the top left corner of your application).
If you are new to RAMP you may create an account HERE.
If you have any questions regarding this process, please email support@udfc.ca or patriciam@udfc.ca.
Once you have received confirmation of funding from Kidsport and Jumpstart please notify our office by forwarding your confirmation to support@udfc.ca.

If your application for Kidsport or Jumpstart is denied/approved but will not cover all the costs of registration you may be eligible for additional funding from United DFC. Please note non-approved applications will still need to be forwarded to support@udfc.ca. Please note if your application is denied to Kidsport or Jumpstart you will not automatically be approved for UDFC's Financial Aid, you will still need to apply to do so please contact David Campbell at davidc@udfc.ca.
For more information on the United DFC Financial Policy please CLICK HERE.
REFUND POLICY
United DFC recognizes that circumstances change, and people may choose or need to reconsider their decision to register for soccer. At the same time, the Club makes decisions on staffing, team composition, and incur costs based on player registrations. This policy is intended to provide guidance and clarity on the criteria and timelines for refunds. To review our refund policy please click HERE.
If the Nova Scotia Health Authority makes changes to our restrictions that suspend or stop programming, United DFC will issue pro-rated credits.
Pro-rated refunds/credits may be issued for medical reasons with an accompanying doctor's note.
No refunds will be issued 2 weeks post program start date.
Registration fees are not pro-rated due to absence or vacation.
Refunds are subject to a $50 administration fee.
To review all United DFC policies please click HERE
Click HERE to purchase at our United DFC online store.
For more information about our Jersey-4-Life click HERE.
For more information on our Uniform/Training clothing requirements click HERE.
Please visit our FAQs page to find out more about registration/payments, equipment and clothing, practices and games, player placement and technical staff and coaches.